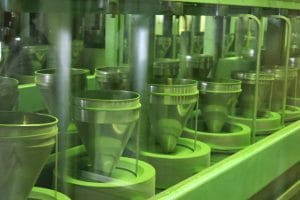 AOI spares no expense to ensure that its matcha is top of the line. The tea is cultivated in the Nishio region of the Aichi prefecture, one of the finest locations for tencha (pre-ground matcha) in all of Japan. Additionally, AOI cultivates tencha from Kyoto – also one of the finest locations and widely known as the cultural hub of Japan as well as where most of the largest tea companies in the world harvest their green tea.
Organically grown since the 1990s, tea leaves are picked by hand. The tea is thoroughly monitored to surpass ISO9001 and ISO22000 certification standards, and it's carefully documented so buyers can easily know where the matcha was harvested, when it was harvested, the cultivation conditions, and more. With these high standards, it's no surprise that AOI was recognized as the #1 producer of organic tencha by the prestigious Aichi Brand.
JAPAN'S LEADING BULK MATCHA MANUFACTURER
AOI's bulk japanese matcha continues to be enjoyed in many forms. It is well known that AOI's ability to supply retailers the best of Japan's matcha is state of the art. But with customized products, transparent availability, and personalized service – AOI is indeed uncontested. Whether you are interested in a matcha bulk supplier or bulk organic matcha tea, you've found the best provider.
Adding to our outstanding process of deliver, AOI's collection of certifications, safety precautions and regular quality control analysis – AOI is also among the safest in the industry! Check out the items below to learn more about our products or give us a call today at 1-877-264-0877 to place a bulk matcha order!
Our matcha is of the highest quality and undergoes strict, independent testing to ensure that it is safe for consumption around the world. We also feature wholesale organic matcha.